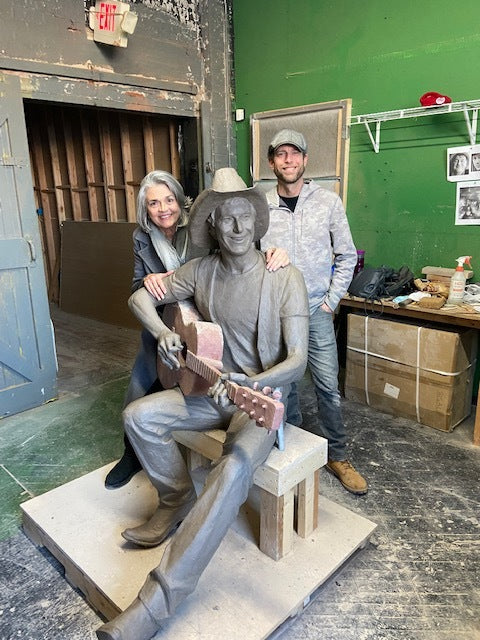 Join Us October 7th and 8th in Luckenbach Texas!
TICKETS ON SALE NOW!
Tickets for two very special events are on sale now at the links below.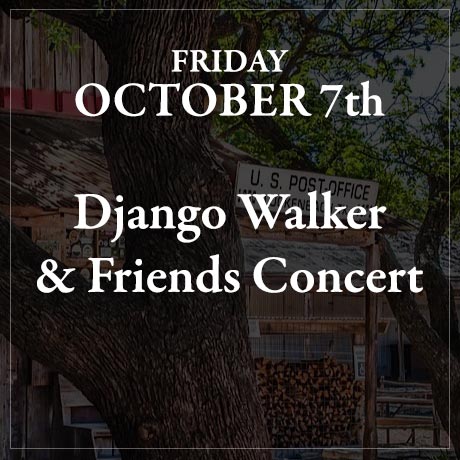 Friday Tickets
Join us in Luckenbach, TX on Friday, October 7th for a very special Django Walker & Friends concert!
BUY FRIDAY TICKETS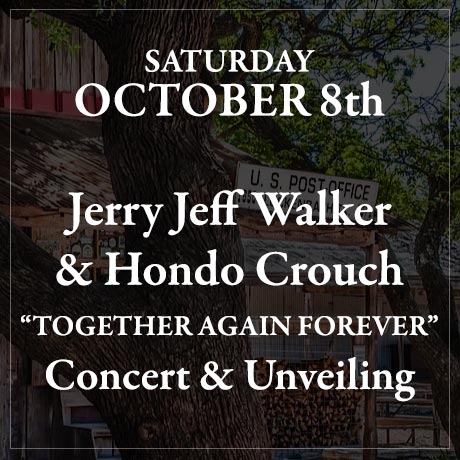 Saturday Tickets
The fun continues in Luckenbach on Saturday, October 8th with the Jerry Jeff Walker & Hondo Crouch "Together Again Forever" Concert and Unveiling!
Buy Saturday Tickets
Our First Look!
We just returned from Philadelphia for final "tweaking" and approval of sculpture.
Rightfully so, Clete (the sculptor) decided to make these men larger than life. I must say it took our breath away!
It is ready now to begin the process of bronze casting, which is a mind blowing process! We were able to walk through the entire "Lost Wax" process while we were there.
It begins by painting onto the clay sculpture a rubber mould which is then covered by plaster. The rubber and plaster mould is then removed from the clay sculpture. Next, hot wax is brushed into the mould which captures all of the details. Once the hot wax has cooled, the now wax sculpture is "dipped" into a ceramic slurry which creates a casing, or shell, that withstands temperatures over 2100 degrees. The wax is now melted ( LOST) out of the ceramic casing/shell leaving a cavity that has recorded all of the details of the sculpture. Molten bronze is carefully poured into the ceramic shell. After removing and sandblasting any remaining shell, the bronze piece then goes through a painstaking patina process.
Clete will be there to oversee all steps and we want to allow enough time to ensure we get the best possible final product.
We have now set the unveiling in Luckenbach on Saturday, October 8, 2022.
Django will be in charge of the concert and we will work hard to have the fan favorites from the memorial concert. We will send more info as we get closer.
Most likely tickets will go on sale in June and we will send you a link before they go on sale to the public.
I am very thrilled with this sculpture and want to thank all of you for being involved and making this impressive piece of art a reality!
Hope to see you in October!!
Susan