JERRY JEFF WALKER MEMORIAL CONCERT LUCKENBACH TEXAS JUNE 5, 2021 - REVIEW BY JOHN T. DAVIS
Susan Walker was taking a whimsical tone for a moment which, you have to admit, one doesn't hear at a funeral every day. Whimsy is typically in short supply. But, considering the subject of her remarks, it was perhaps understandable.
"At one time, many of us thought we would live forever," she said. "At least we acted like it. But not one of us thought Jerry Jeff would." The small crowd of friends, family, and kindred fellow musicians gathered on a steamy day at the Texas State Cemetery to lay Jerry Jeff Walker to rest laughed approvingly. No one, indeed.
But the very next day, Susan's words were proved wrong, and in the best possible way. A baker's dozen performers gathered in front of about a thousand die-hard Jerry Jeff fans on June 5 in the tiny Texas Hill Country "town" of Luckenbach to celebrate Walker's life and music. His memory and his spirit were not only alive and well, but seem destined to endure. If that's not exactly living forever, well, it's the next best thing.
Luckenbach, of course, is the proverbial wide spot in the road that Walker, who passed away last October, made famous with a series of on-site live recordings, including 1973's landmark, Viva Terlingua, along with A Man Must Carry On (1977) and Viva Luckenbach (1994). It became a place, in the words of Hondo Crouch, Jerry Jeff's friend and Luckenbach's most famous proprietor, where "everybody's somebody." 
Jerry Jeff fans have made Luckenbach a point of pilgrimage for decades and the memorial concert was no exception. Laura and Steve Ward journeyed from Pennsylvania for the show, making their first visit to Luckenbach in the process. "When I moved to Pennsylvania, I couldn't find any Jerry Jeff or Texas music—I had to import it," said Steve. Laura became a convert and agreed the event was a great way to remember Walker and his music.
Zada Casper and Paul McConnellougue, both from Colorado, have Walker's music to thank for a 45-year friendship. "I listened to Viva Terlingua as a junior in high school," said Paul.
Like the fans out front, the musicians on the bill were also making a pilgrimage of sorts. All of them had, in one fashion or another, been influenced by Walker over the course of his 50-plus year career, and many had been directly mentored by him. It was a mix of personalities that featured marquee acts like Jimmy Buffett, Michael Martin Murphey, and Emmylou Harris, and lesser-known figures like pro-baseball player-turned-songwriter Tim Flannery and Henry "Stoney" Stonebeck, an old hitchhiking buddy from the early 1960s and the subject of one of Walker's best rambling songs.
Like the fans out front, the performers had more than their share of Jerry Jeff stories. Pat Green who, as a budding songwriter, used to visit Walker's house in Austin to partake of wisdom and soak up the vibe, recalled being in Walker's music room: "I felt like I was behind the curtain with the Wizard. As a very young man in my 20s, being in that house, I just felt like I was part of something."
Steve Earle confessed that there was a time in his life when "I wanted to be Jerry Jeff Walker more than anything. Unlike a lot of songwriters, he was a great interpreter of other peoples' songs. We know about Guy Clark (whose songs Walker was the first to record) because of him…He's the connection between so many people and myself, and the reasons that I do this."
"I opened for everybody at Gerde's Folk City (in Greenwich Village) and David Bromberg and Jerry Jeff were the regular opening act for everybody at the Bitter End, so it worked out I could walk over and catch one of their sets almost every night," said Emmylou Harris of her folk music days. "Somehow, Jerry Jeff was always this larger-than-life figure, generous and open-hearted. In a way, he needed to get out of the Village and come down to the wide-open spaces of Texas. He needed more room."
"Jerry Jeff did quite a few of my songs along the way," recalled Rodney Crowell. "And the last three years or so, we got close on the telephone. He would call me a lot. He was a big fan of my song, 'It Ain't Over Yet,' and we'd talk about that. We'd talk for an hour and a half, and I'd talk for ten minutes."
At the funeral service preceding the show, Jimmy Buffett wondered aloud at the direction his destiny had wound up taking all because he jumped into a car. "Jerry Jeff picked me up in his '47 Packard and drove me from Coconut Grove (Florida) to Key West," he said. "I've always said, if we had just driven down and had a beer and come back, my life would have turned out very differently."
As for the concert itself, it was cleverly structured to follow the arc of Walker's career and featured only songs Jerry Jeff had written or recorded.
The first part of the show, reflecting Walker's roots as a folksinger from upstate New York named Ron Crosby, featured folk figureheads like Ramblin' Jack Elliott, Keith Sykes, and Jeff Hanna of the Nitty Gritty Dirt Band, whose 1970 hit version of "Mr. Bojangles" introduced Walker too much of the radio-listening public.
The second portion echoed Walker's move to Texas and his evolution into one of the standard-bearers in the 1970s, along with Willie Nelson and Michael Martin Murphey, of a new Texas-bred fusion of rock, country, blues, and folk. Forty-eight years later, no album sums up that transformational "redneck rock" alchemy better than Viva Terlingua.
The last portion of the show was, for lack of a better way to phrase it, a tribute to Walker as an elder statesman and an icon of Texas music, a mentor to his fellow musicians, a father and husband, and perhaps the ultimate "somebody" in Luckenbach's mystical pantheon. It's in that spirit that money raised from the show will go to construct a life-sized bronze of Walker and Hondo Crouch by sculptor Clete Shields.
Spearheaded by Rodney Crowell, Jimmy Buffett and Jerry Jeff's son (and musician in his own right), Django Walker, and accompanied by everyone on the bill, the ensemble romped through a raucous 12-pack of some of Walker's most iconic songs and covers, including "L.A. Freeway," "Hill Country Rain," "Sangria Wine," "Up Against the Wall, Redneck Mother," "London Homesick Blues," "Railroad Lady," and "Don't It Make You Wanna Dance."
There was a palpable sense of liberation, both in the audience and on the stage. Chalk it up, maybe, to giddy post-COVID liberation. Or the Brigadoon-like spell of a pretty summer night in Luckenbach. Or, just for a fleeting few hours, the feeling that everyone was in fact going to live forever.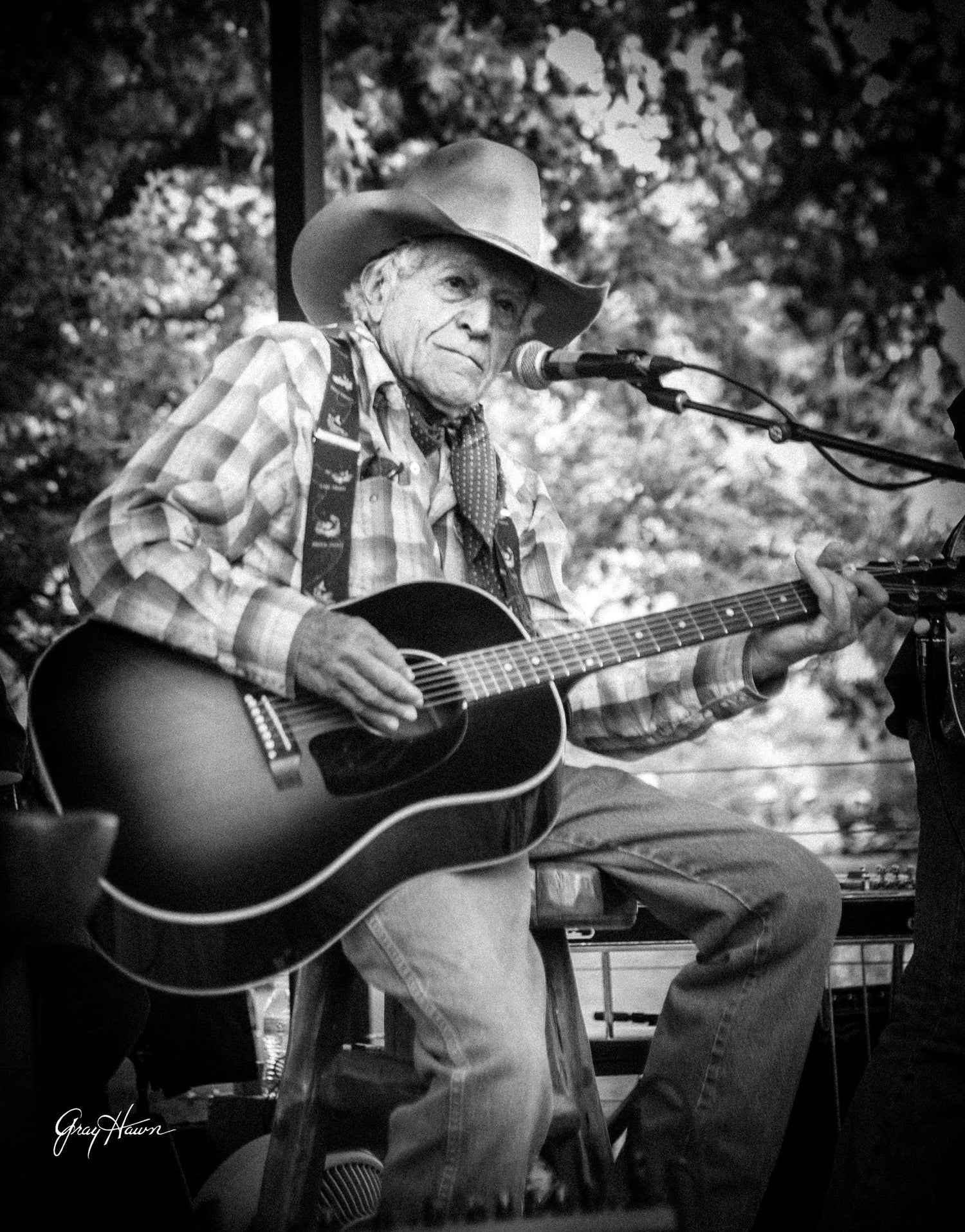 There was a palpable sense of liberation, both in the audience and on the stage.
Chalk it up, maybe, to giddy post-COVID liberation. Or the Brigadoon-like spell of a pretty summer night in Luckenbach. Or, just for a fleeting few hours, the feeling that everyone was in fact going to live forever.
View Concert Gallery
Choosing a selection results in a full page refresh.